I finally got the rifle paid off so now the wife has most graciously allowed me and PayPal to buy a better scope. Some say that they like to spend nearly as much on the scope as they did on the rifle....well I don't subscribe to that notion. So here was my choice.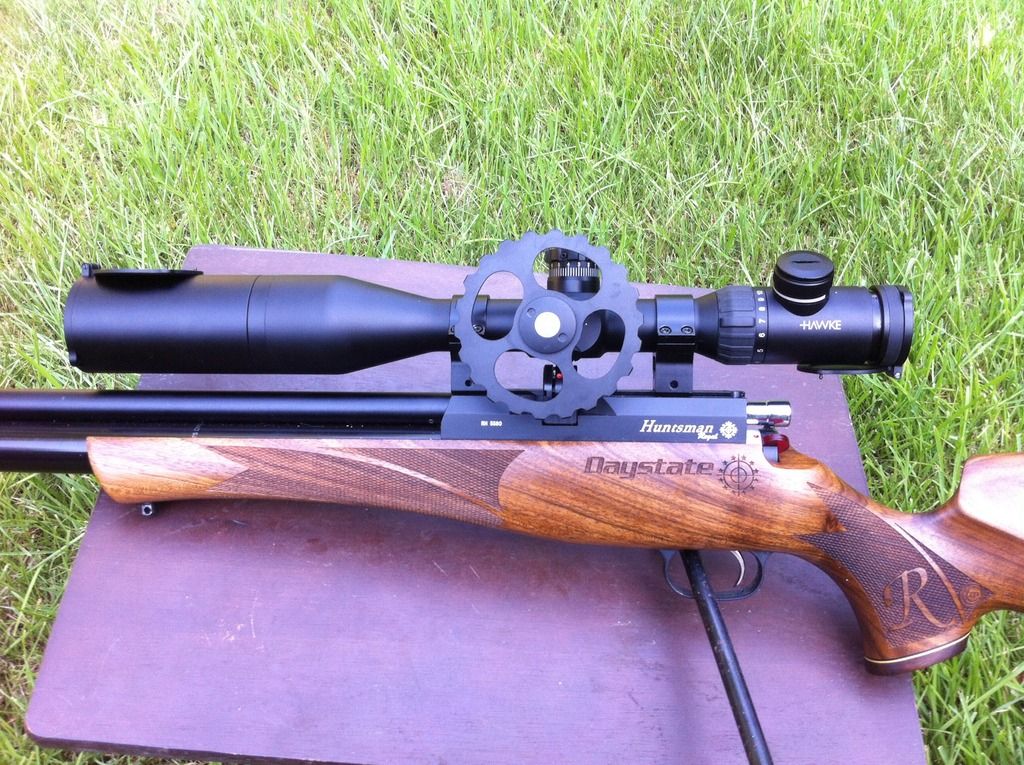 It's the 3-12x because I never need magnification higher than that when hunting. I like low power because it's quick to find that squirrel in a tree full of branches and leaves. This scope is CLEAR. It has a great image and it is a large image. I just wish that it was first focal plane. But then it would probably cost twice as much. I bought it on eBay for $349 shipped. The glass reticle is very sharp, fine and clear. When illuminated it is still just as sharp. The illuminator is not stepped so you can get it just right brightness for the situation. No buttons to press, its easy and fast just turn the knob to the brightness you need. It is only one color...red.
The included side wheel is the best I have used (but not the prettiest). It is not installed by being pressed over the focus knob which allows them to be wobbly, but rather "bolted" on to the face of the knob and is indexed to fit on just when it is fully aligned with the knob so that the numbers on each are perfectly aligned. This wheel does not rock laterally like most other wheels do.
Oh...I think it important to note that this scope is "all Metal" with the exception of the glass and the rubber on the magnification ring. Therefore it is rock solid. Even the scope caps are aluminum and I like the way that they fold back all the way and don't stick out like a sore thumb to grab onto everything like the bill of your cap. Notice the rear cap is folded under the scope ;D
The reticle adjustment knobs are clearly printed and have a nice tactile feel and sound to them. Their is a locking "hat" on top that is easy to use. I read someone say that you can change even if locked but I couldn't. But then I didn't use pliers. ::)
Did I say it is VERY CLEAR? And at dusk it is brighter than any other scope I have seen. (but I am not an expert)
It only took 5 shots to get it dead on at 40 yards. Then it drilled this 5 shot group.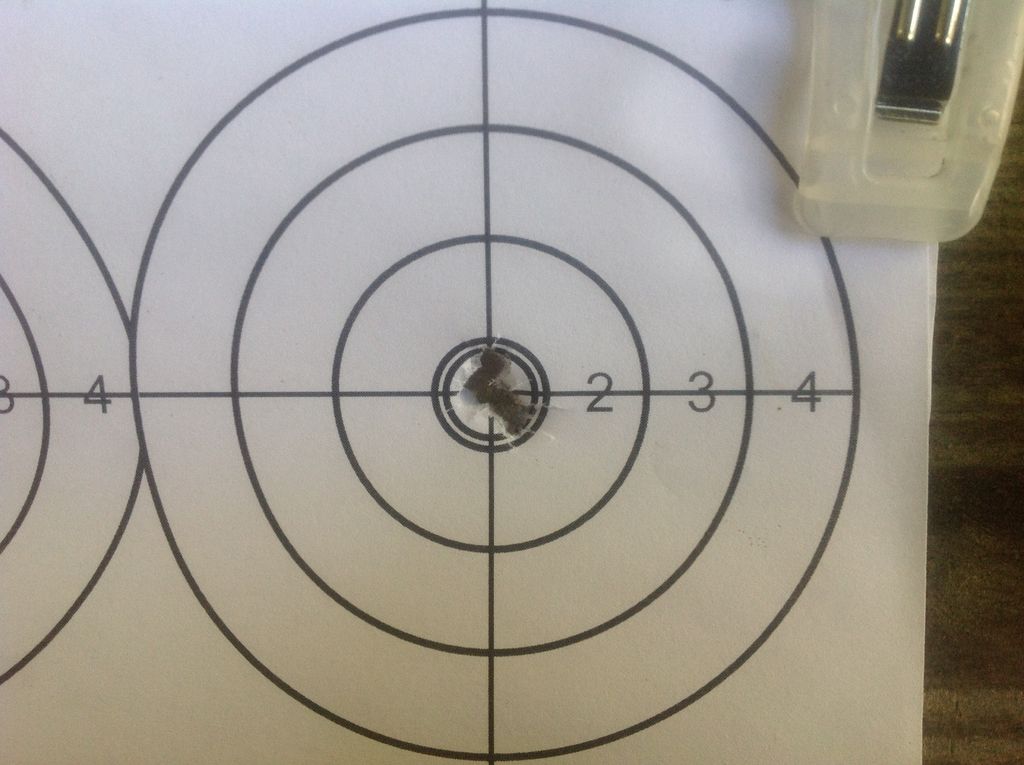 It includes 4 tools. One to attach the focus ring, two to adjust the scope caps so that they are just where you want, and an allen to loosen the set screws to zero the reticle adjustment knobs. That zero adjustment is the only thing on the scope that I think could have been designed better, You loosen 3 set screws to allow for zero adjustment of each knob then retighten them. Crude but effective. Also it came with a spare battery and a lens cleaning cloth. PLUS mine came with an official Hawke beer coozze. 8)
I think that I'm going to like this scope. My only complaint is that since I took a Simmons 44Mag off the Regal to install this scope, the difference in weight is noticeable. I gotta pump more iron I guess. But I'm looking forward to hunting with this setup.